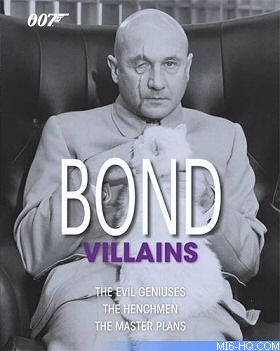 Anybody would think Ernst Stavro Blofeld himself had been tinkering with this post - every time I attempt to write or publish something crashes or goes wrong.
Maybe SMERSH want to keep the news that a couple of weeks ago, Terry Duffelen, Graham Sibley and I recorded a new Oddjob Podcast on James Bond villains.
We all have our favourites, of course, and those we dislike. For instance, I'm not a fan of Hugo Drax, although Terry and Graham think very differently. I suspect my dislike of Moonraker somewhat clouds my judgement on this - perhaps it's time to rewatch and reappraise Michael Lonsdale's performance.
And then I quite like Elliott Carver as a villain - and I've found very few people who feel the same way about Tomorrow Never Dies and Jonathan Pryce's performance in general.
One thing we're all agreed on: Blofeld is not the best Bond villain, and there's only one definitive portrayal of the follically-challenged evil one. To find out which one, you'll just have to tune in, of course.